Nothing screams September like heading back to school. Though we are long past the days of book bags and lockers, some of the lessons we learned from our high school days are still prevalent today. We asked some of the team here at HQ to reflect on their high school beauty routines and tell us how those experimental days shaped how they get ready now. Next up–Nicole, our Customer Experience Coordinator!
When I was in high school, I went through a lot of different stages in my fashion/beauty routines, for better or worse. 😉
One thing was a constant, I had an addiction to plucking my eyebrows. It was the look where it's such a thin line that you might as well have drawn them on with a pencil! People would ask me if they were drawn on and I took it as a compliment. I guess I had pride in how meticulous I was. Luckily, I had an epiphany around my senior year to grow my eyebrow back, so not all was lost.
High School Beauty Routine:
Face: Liquid foundation and lotso' powder. I went for the Casper the ghost pale look.
Brows: I left them alone except for an obsessive use of the "brow brush" (which was funny because there was not much brow to brush…)
Eye Shadow: Cover Girl, probably in 'Champagne'.
Eyeliner: Black eye pencil blended in by my lashes and definitely on the water line.
Lashes: Curled and black black mascara
Finally, bronzer and ChapStick. I didn't wear lipstick or lip gloss. I was mainly scared of too much color.
All in all, it wasn't too shabby, now that I'm looking back at it. Eventually, I found my way–I think I'm pretty good at applying makeup now. I definitely stay away from the temptations of tweezers!
Current Beauty Routine:
Face: Concealer, BB cream, setting powder.
Brows: Tailored Brow Tint in Dark Brown. (I have pretty full eyebrows but I like to get that rich, filled-in color that Tailored Brow provides).
Eyes: I go for buildable neutrals because I use more than one color as a base shadow. My go-to is the Natural Charm ShadowClutch. It's so easy to customize my looks to fit my mood.
Liner: Usually a cat eye with our Iconoclast liquid liner. It's a classic look that's my everyday look.
Mascara: Double Decker–SO GOOD! I have very straight lashes with little curl, so Double Decker really helps me volumize and lengthen without using an eyelash curler.
Cheeks: Our On the Glow pen in White Gold on my upper cheekbone, along with our Violet BlushClutch single.
Lip: Purple is my favorite color, so I am obsessed with combining our Plush Rush lipstick and lip gloss in !!! and Double Dare. It's bold and beauty-full!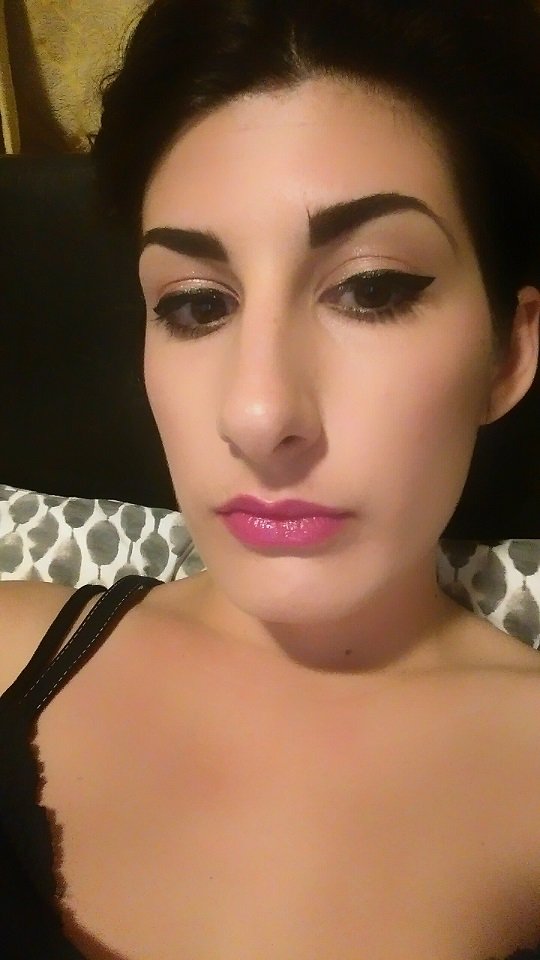 In comparison, I would say I play around a lot more with colors. I gravitate to neutral shades on the eye, but pretty bold colors on the lip. I like using the contrast of light to dark. Neutral eye, bold liner, bold brow, bold lip.